When I founded the Real Food Café in 2004, my vision was to run a restaurant that was accessible to all and served sustainably sourced delicious food. As the years went by, I was fortunate enough to see this vision become a reality. Today, people from all walks of life—whether they're travelling through Scotland on the A82, or journeying the West Highland Way— find comfort and sustenance at our welcoming pitstop.

Speaking of sustenance, there's a good reason our food has won awards! The vast majority of our menu items are handmade, and we promote and source Scottish produce whenever possible. What's more, I'm confident our certified gluten-free options have raised the bar in terms of flavour and safe service.

Our success wouldn't be possible without our hard-working team; one in which an employee isn't just a worker but a valued member of our extended family. We've always striven to create high-quality, meaningful jobs and provide a harmonious working environment. Continuously supporting learning and development, we encourage our team to grow in both a personal and professional sense.

All of the above is extremely important and the cornerstone of any successful business. Without it, The Real Food Café wouldn't be what it is today. But it's because of this cornerstone, this foundation of our success, that we have a springboard from which to view the bigger picture. Never content to rest on our laurels, we've always invested in growth and development, safeguarding our ethos for future generations of employees and customers.

The question that drives us is what, beyond owners, staff, and customers, is our higher purpose?

When we say we're more than just a café, we mean it. The work of Alan and I, as the business founder and principal owners, is to create a lasting legacy that reinforces this. One that's always expanding, encompassing the local, national, and global.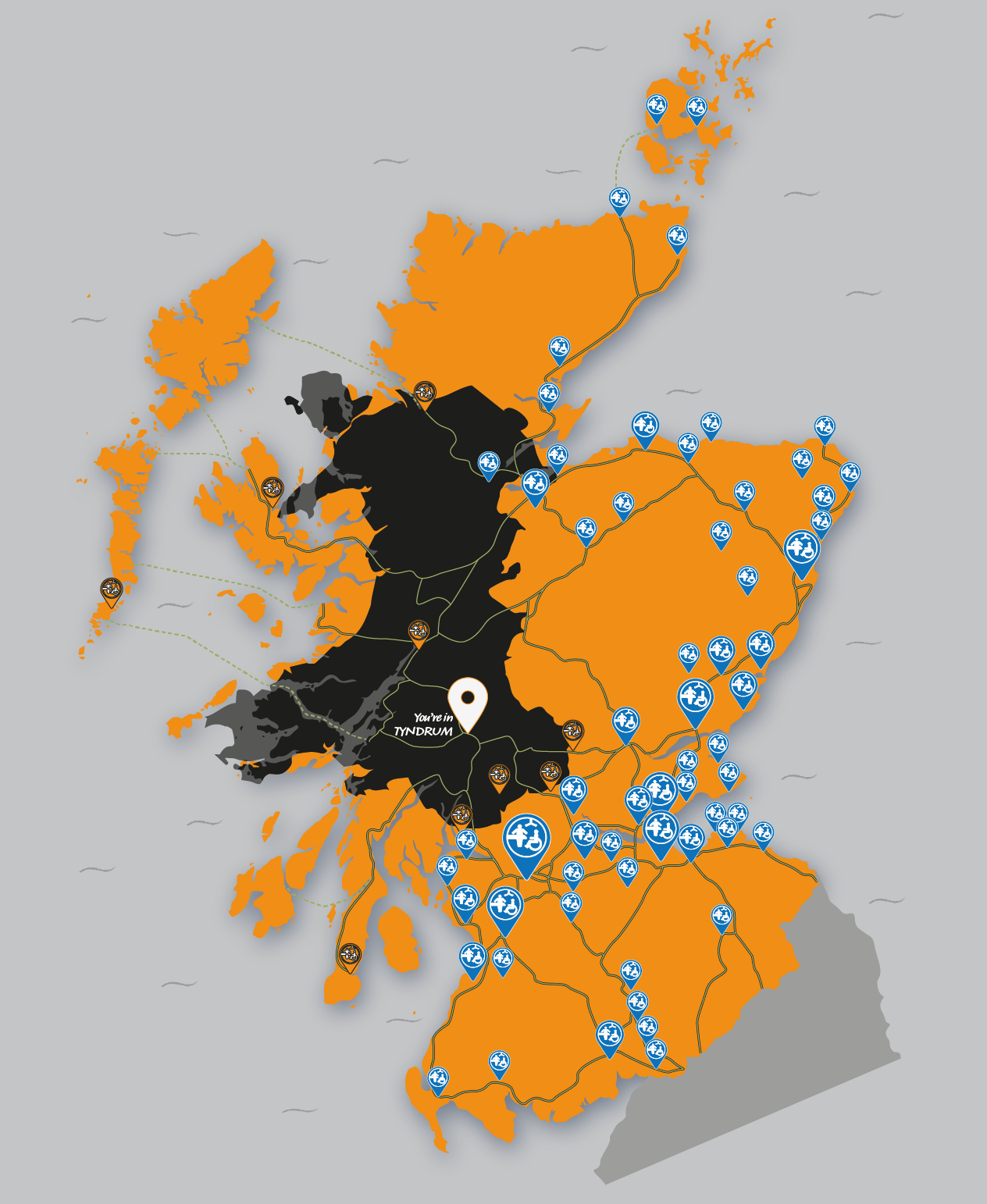 Changing places
When my father became unwell, I had to stop working to care for him. This led to me developing an acute understanding of the challenges severely disabled people face, especially concerning the difficulties of travelling and lack of suitable facilities.
Changing Places are specialised washrooms kitted out for those that need to be hoisted onto the toilet. Currently, there's a shortage of these crucial facilities in Scotland. There are none between Crieff & Barra. The area without changing places facilities in West Scotland is bigger than Wales.
Changing Places website
...So We Started The Tyndrum Infrastructure Group (TIG), a charity SC051750, with the primary objective of building a CPT for Tyndrum.
We are fortunate that the Tyndrum Infrastructure Group has a committed and diverse broad of volunteer trustees, without whose efforts and persistence none of this would be happening.
They are:
 Chair - Sarah Heward 
Treasurer – Dougie Peddie
Secretary – Kim Kemp
Professor Dawn Skelton
Dame Anne McGuire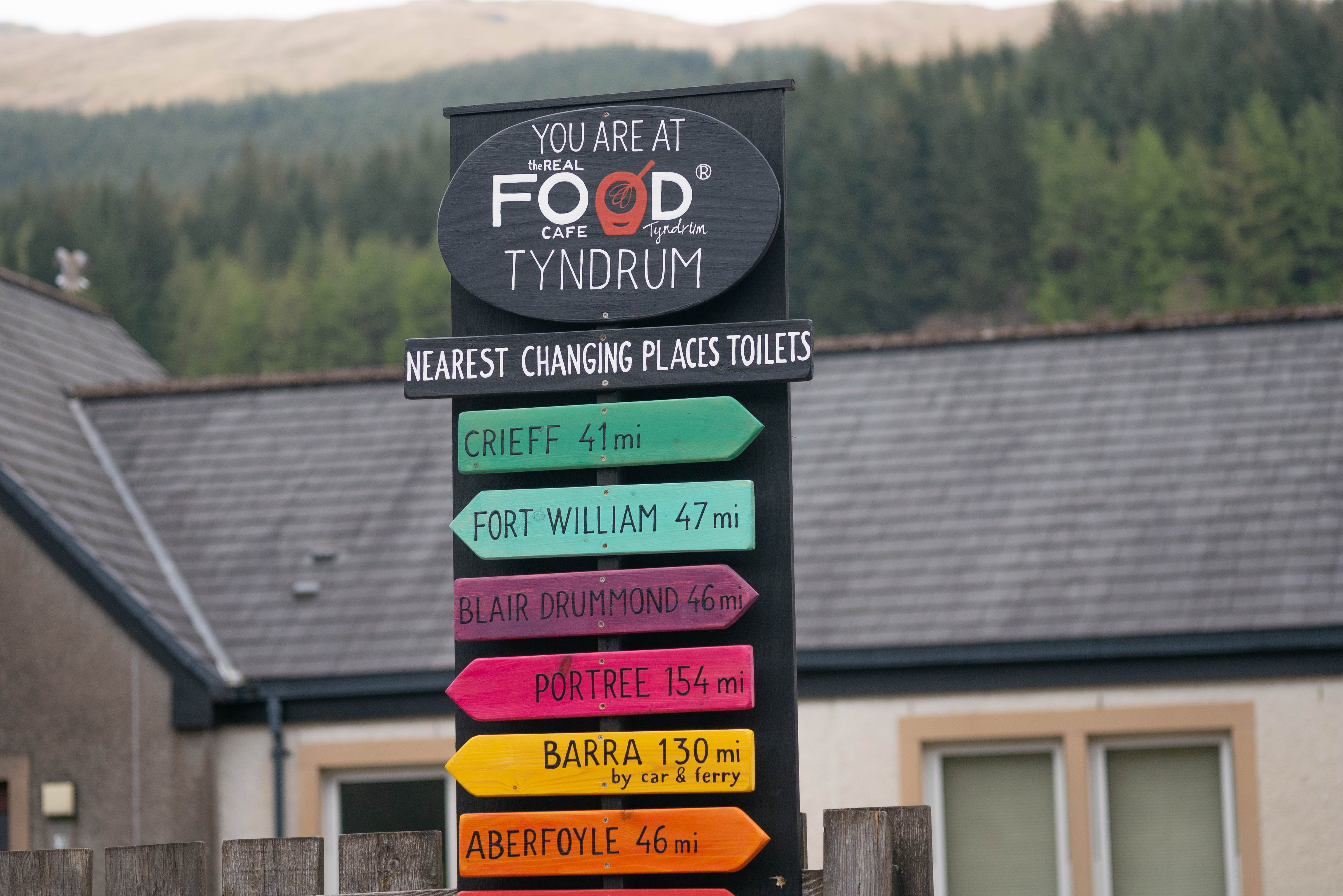 Spend a Penny Scotland
We are now in the position to apply for planning permission and raise the capital necessary to build the changing places facility which is estimated to be approximately £250K.
Building the Changing Places Toilet in our beautiful village of Tyndrum will have an immense benefit for disabled individuals and their families. These facilities will be located at The Green Welly Stop and will enable many people to enjoy the beauty of the Scottish Highlands.
To build these essential facilities, we are currently crowdfunding £10,000.
Please help us achieve our goal:
Sign our petition.
Share, share, share our posts and talk up the campaign.
Visit our crowdfunding page and donate to our charity.
Changing Places for Tyndrum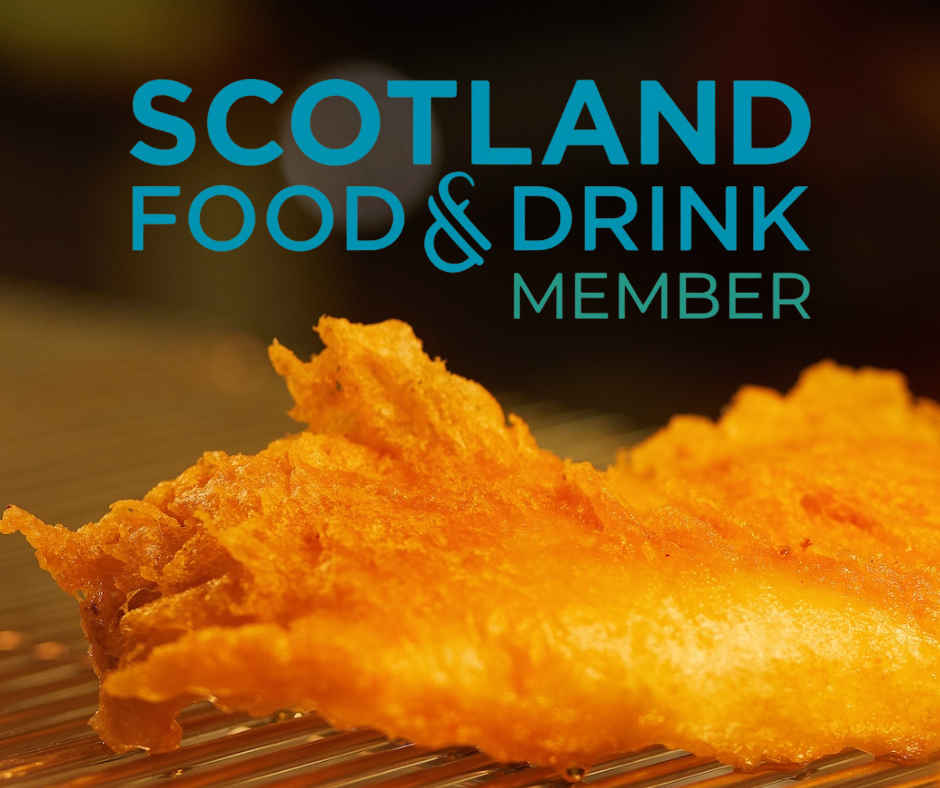 Scottish Regional Food Tourism Ambassador for Stirling and Forth Valley
In Autumn 2021, I was appointed as a Regional Food Tourism Ambassador for Stirling and Forth Valley. It's a voluntary position with a two-year commitment, and I'm part of a group of 25 regional ambassadors appointed by Scotland Food & Drink. The program is supported by the Scottish Government, The Scottish Tourism Alliance, and VisitScotland.
As ambassadors, our primary aim is to promote Scottish food throughout our region and further afield, as well as carry out projects that add value to the hospitality, food, drink, and tourism sectors.

Currently, I'm working on a project in collaboration with the LLTNP and an industry-led Steering Group. Our goal is to create a package of staff welfare and benefits that can be used to promote these sectors. We also seek to raise

Toilet Twinning
Sadly, there are many homes and schools in Malawi that don't have basic amenities. However, thanks to our collaboration with ToiletTwinning we've managed to construct over 110 toilets! This has ensured many communities have the facilities they desperately need and deserve. As well as building the loos, the charity also educates people on how to use and look after them. This is a vital part of their work as it helps to reduce infant mortality and cut down on the spread of disease. If you'd like to be a part of this amazing project, click the link below:
ToiletTwinning.org